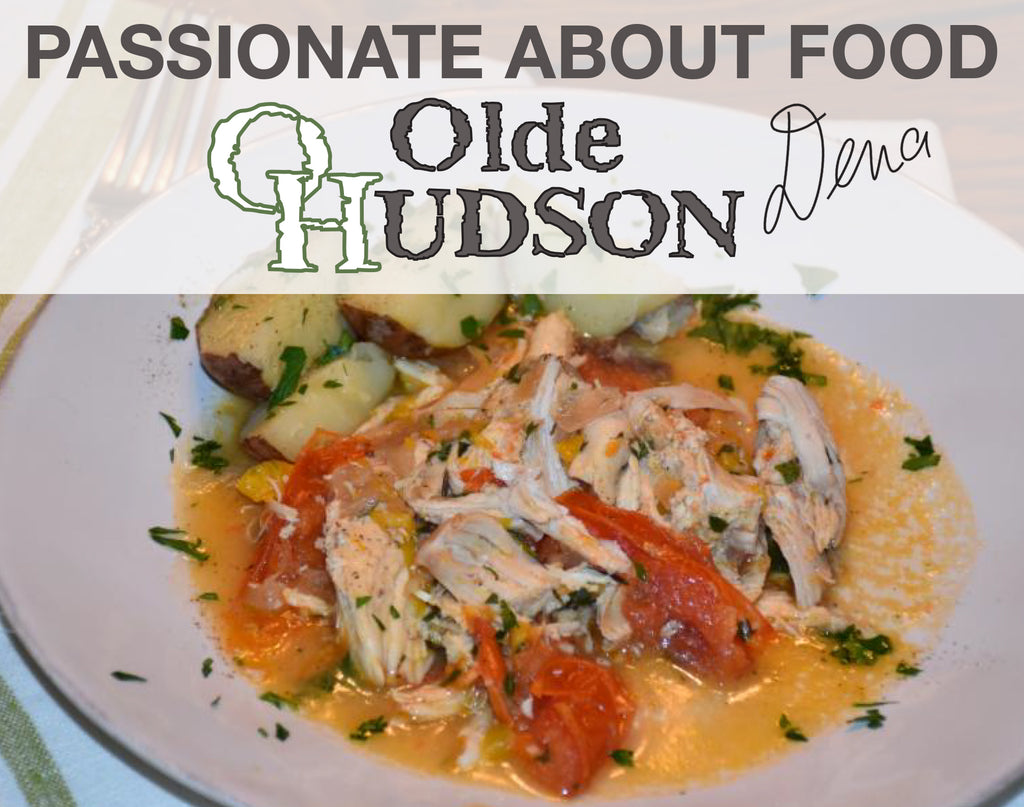 The key to this recipe is the vinegar. Somehow it brings the chicken braise into a complex satisfying depth, a perfect answer to chilly winter weather eating. The Agresto I've used here is made with grapes and honey but you might try the Vergus Rouge, or experiment with another of Olde Hudson's sweet vinegars.
Although I first created this recipe last fall I've found myself craving and serving this dish as it turned colder and substituting yellow peppers and on-the-vine-tomatoes for the local sweet multi colored peppers and heirloom tomatoes that I carry in their season.
It generously serves 4.
Ingredients
2 large bone-in, skin-on Misty Knoll chicken breasts
Herbes de Provence from Frontier Dried Herbs
1 Red Onion – coarse-chopped
2 large yellow peppers (or 4 small, sweet, multi colored in season) coarse-chopped
3 garlic cloves crushed and coarse-chopped
2 Tablespoons Agresto Vinegar or a sweet vinegar like Vergus Rouge
2 Cups Aneto Chicken Stock
2 large tomatoes (heirloom or tomatoes-on-the-vine)
2 Tablespoons Parsley – chopped
Salt and Pepper
Season both sides of the chicken breasts with salt and pepper and the skin side only with a generous amount of Herbes de Provence. Set aside
In a braising pan, gently heat 2 tablespoons extra virgin olive oil.  Add peppers, red onions, garlic, a pinch of salt and sauté until they begin to soften. Add 2 tablespoons Agresto Vinegar – stir to combine and cook for another minute. Add the seasoned chicken breasts – skin side up.
Add 2 cups Aneto Chicken Stock around the chicken – DO NOT POUR OVER THE CHICKEN.
Bring to a boil, cover and cook on low 45 minutes to 1 hour. Check half way through and gently stir.
Remove the chicken from the pan. Remove and discard the skin – slice the chicken from the bones into large chunks. Return the meat to the broth in the braising pan.
Coarse chop the tomatoes and add to the pan along with 1 tablespoon chopped parsley, salt and pepper to taste.  Stir to combine all of the ingredients and with heat at medium-low  cover the pan.  Cook 10 more minutes until the tomatoes soften. Serve with steamed or mashed potatoes.
These ingredients can be found at Olde Hudson