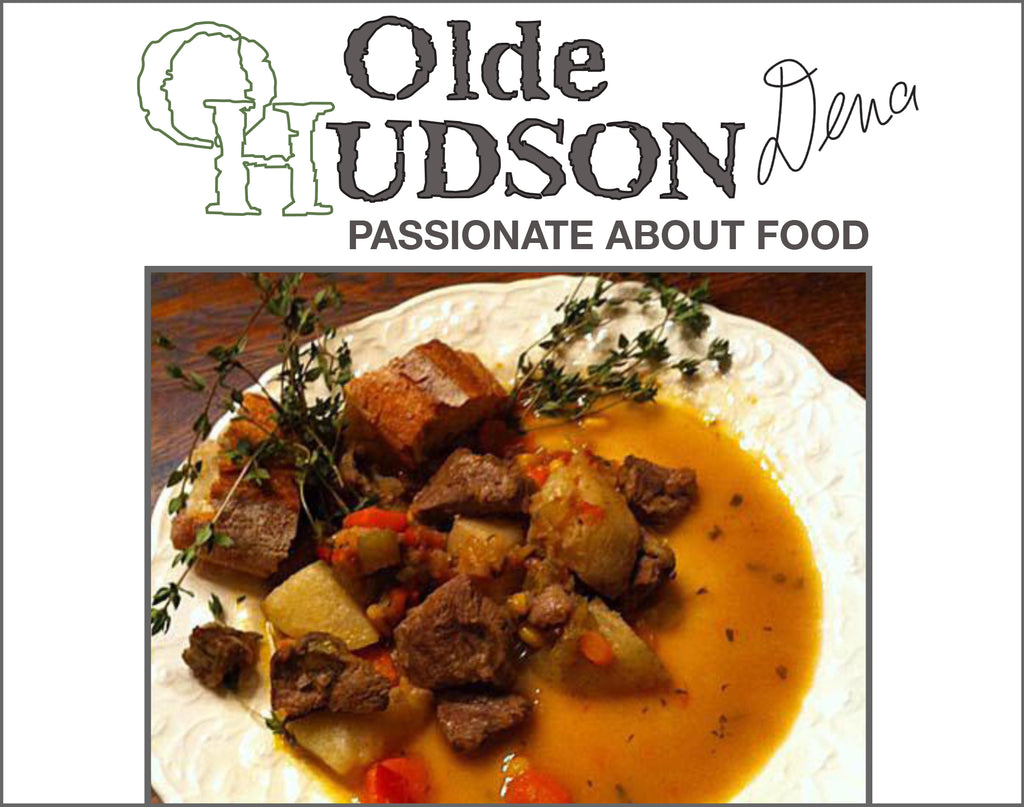 Another reason we love to cook:
Cooking connects us to the world around us and these cold and beautiful days remind me to enjoy my kitchen -- take the time to braise and stew and savor the deep flavors we all crave in winter.
Spend a glorious afternoon recreating this go-to, winter-worthy recipe.
It takes just a little time and love to prep, a little longer to stew and fill our home with comforting aromas and when we sit down at the table satisfy our palettes with rich, deep flavors.
I've been singing this ode to winter for years! This recipe serves four. 
Ingredients
2 lbs. lamb cubed, sinew removed
1 medium onion finely chopped
2 large leeks, white parts only, cleaned, thinly sliced
1 small red pepper minced
3 stalks celery,  cut into 1/4" pieces
3 carrots, cut into  1/4" pieces
2 medium Yukon Gold potatoes, cubed in 1/4" pieces
1/8  teaspoon cayenne pepper
1/4 teaspoon Chinese 5-spice powder
1 large tomato, seeded and coarsely chopped
1 tablespoon fresh oregano, minced
2 teaspoons fresh Italian parsley, minced
1/2 teaspoon
sesame oil
, salt  and pepper to taste
 Sprinkle lamb with salt and pepper. Heat 2 tablespoons grapeseed oil in medium stockpot. Sprinkle lamb with flour and sauté until brown. Transfer lamb and all juices to plate, clean the pot and continue.
Heat 2 tablespoons olive oil in stockpot over medium-low heat. Add onions, leeks, red pepper, celery, carrots, garlic, salt. Cook on low heat for approximately 7 minutes, stirring occasionally. Do not brown the garlic.
Add white wine. Bring to a boil and reduce. Add the potatoes. Sauté for 5 minutes until well blended and potatoes start to look glazed.
Add sautéed lamb and lamb juice, salt, cayenne pepper, coriander and chinese-5 spice powder. Mix well until nicely blended.
Add 1 cup chicken stock, 1 cup beef stock and 1/4 cup red wine. Bring to a boil.
Add chopped tomato, corn kernels, oregano, parsley, thyme, additional 1/2 cup of chicken stock and the sesame oil.
Season to taste with salt and pepper.
Reduce heat to simmer. Cover and cook for 1 hour, until potatoes are tender. Taste for seasoning.
These ingredients can be found at Olde Hudson.