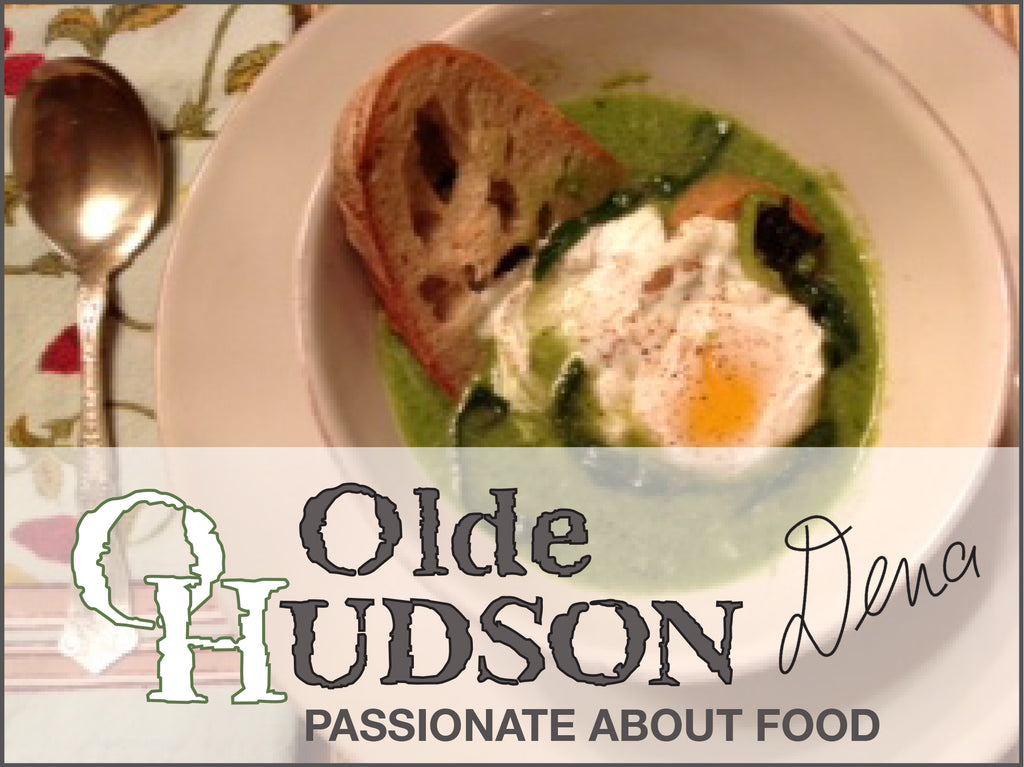 Surely nothing, NOTHING, beats the earthy scent of spring. This morning, as I Ieft the house to head out to Olde Hudson it made me think of Ramp Soup – a reward if there ever was one. I've been making one variation or another for a few years now.
Ramp season is so short-lived that we need to grab the moment. So, here's the soup. Enjoy it with three happy companions.
Ingredients
2 whole heads of fresh garlic, rinsed thoroughly
1 pound ramps--bulbs and leaves, roots removed, thoroughly cleaned
7-8 cups of Aneto chicken stock
Pepper
Coarse salt
1 teaspoon vinegar
4 local farm-fresh eggs
1 loaf of crusty bread
Pre-heat oven to 425-degrees and place rack on 2nd tier from top. Place both heads of garlic on foil or in a small pan, drizzle with extra virgin Olive, roast for 45 minutes to an hour until soft, remove and let cool. 
Place the ramps in roasting pan, toss with olive oil and coarse salt, roast for 8-10 minutes, until soft, remove from oven, and coarsely chop.
Heat olive oil in stock pot, squeeze roasted garlic from the garlic heads into the pan, sauté until warm and breakable; add the coarsely chopped roasted ramps, salt and pepper. Stir to combine.
Add 7 cups chicken stock, bring to a boil. Reduce heat and simmer for 10 minutes. If there is not enough liquid add more chicken stock and bring back to a simmer. With a hand blender or in a conventional blender, purée the soup mixture until smooth. Prepare the eggs: In medium saucepan, bring water to a boil, add salt and 1 teaspoon of vinegar. Gently break each egg into a cup and pour into the boiling water.
To serve: slice four pieces of crusty bread, place each on the bottom of four soup bowls, ladle hot soup over the bread, add one poached egg in each bowl, Season with additional salt and pepper and grated Parmasean Reggiano to taste.
These ingredients can be found at Olde Hudson