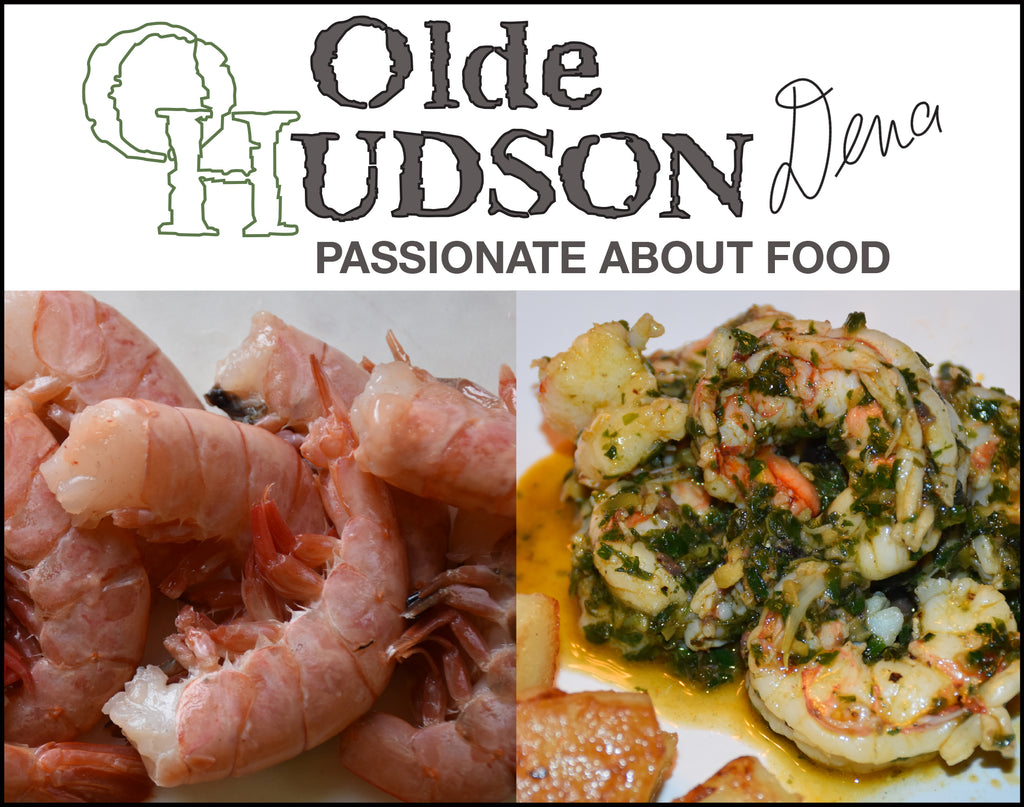 I love this dish.  I started making it a few weeks ago when our fish purveyor introduced wild-caught Red Argentinian Shrimp.  Their color is so vibrant that they immediately made me think of the bright green contrast of herbs… a green sauce with the promise of spring!  We've been enjoying them with the simply sautéed potatoes you see here.
Serves two very happy diners.
Ingredients
12 Wild Red Argentinian Shrimp, peeled and deveined
¼ teaspoon Sel Magique, Classic Blend
¼ cup La Castellina Extra Virgin Olive Oil
8 cloves garlic, peeled, crushed and coarsely chopped
8 ounces parsley leaves
6 ounces basil leaves
6 ounces cilantro leaves
Pinch Red Pepper Flakes
¼ cup pitted French Cocktail Olive Mix – white lupine beans removed
¼ cup white wine
Freshly squeezed Juice of ½ lime
2 tablespoons Vermont Butter and Cheese Butter
black pepper, to taste
Season Shrimp with Sel Magique Classic Blend and set aside.
Gently heat extra virgin olive oil in sauté pan, add garlic and cook until it softens and turns slightly brown.
Meanwhile, add parsley, basil and cilantro leaves to mini chop or food processor and finely chop.  Add to garlic and continue to sauté on low heat until herbs soften, about 5 minutes.
Add olive mix to mini chop or food processor and finely chop.
Add to herb mixture in pan and continue to sauté until olives soften, approximately 3 minutes.
Raise heat to medium and add seasoned shrimp.
Toss to coat with the herb/olive mixture.
Add white wine, raise heat to boil and reduce for 1 minute, then lower heat.
Add fresh-squeezed lime juice, butter and freshly ground black pepper.
Serve with simply sauteed potatoes, crisped in Extra Virgin Olive Oil and seasoned with Salt & Pepper.
These ingredients can be found at Olde Hudson