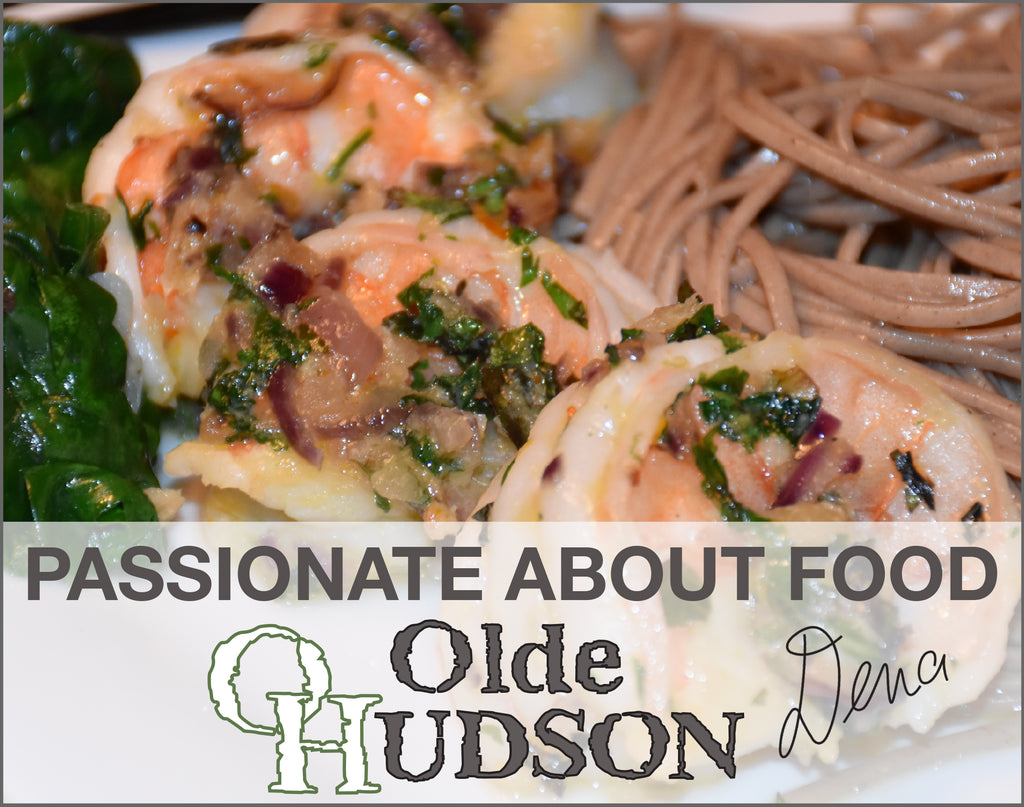 I've been serving this with spinach sautéed in grapeseed oil and garlic and I think it exemplifies how we can make an excellent meal with unexpected flavor pleasures in a very short time.
At the end of the day this comes together quickly and the deep flavors are perfect for a winter weekday dinner. This is not your summer-light-garlic-and-lemon-shrimp but a dish that warms and pleasures and marks the good end to a well-spent day.
This recipe serves two.
Ingredients
12 large Panama shrimp peeled and deveined
1 tablespoon Mae Ploy Asian Sauce for Seafood
2 tablespoons
grapeseed oil
1 garlic clove minced
1/2 medium red onion minced
1 tablespoon fresh peeled minced ginger
2 strips of lime rind minced
Pinch of red pepper flakes
Herb Mixture
1 teaspoon fresh minced basil
1 teaspoon fresh minced cilantro
4 mint leaves minced
2 tablespoons Sake
Marinate the Shrimp in the Mae Ploy Asian Sauce for Seafood for 15 minutes.
Heat the grapeseed oil in a sauté  pan and add the garlic, red onion, fresh ginger, lime rind and red pepper flakes and cook together over low heat until the onion is translucent.  Add ½ of the herb mixture and sauté together one minute.
Add the marinated shrimp to pan, raise heat to medium and cook 1 minute until they begin to turn color. Increase heat to high, add the Sake and the remainder of the herb mixture and cook, stirring until Sake is reduced. Lower heat and continue to cook until shrimp are slightly pink and cooked through. Don't overcook.
 For the Noodles
4 ounces of Buckwheat Noodles
 Bring pot of water to boil.  Add 1 tablespoon sesame oil and the buckwheat noodles. Cook until al dente. Remove from heat, drain and rinse under cold water, place in pan with remaining dressing ingredients, toss and reheat until warm.
These ingredients can be found at Olde Hudson.