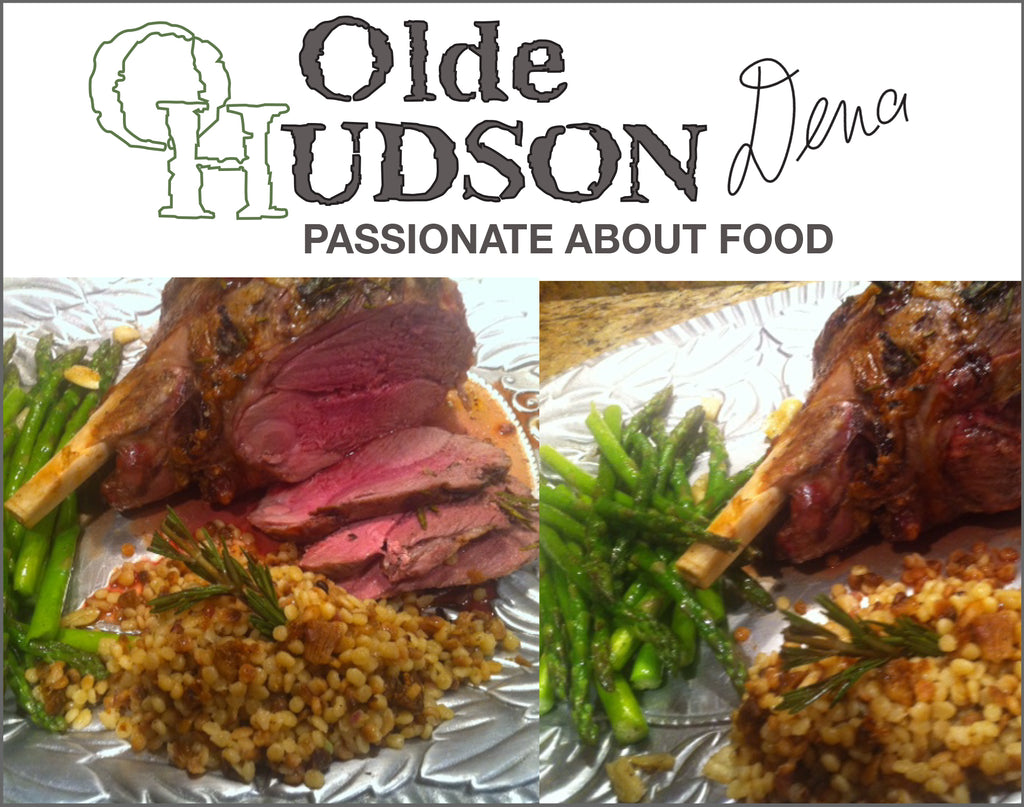 This recipe is the perfect elegant and easy celebratory meal.  It relies on the quality of the lamb, the freshness of the herbs and the arrival of Spring.  I like to serve it with couscous made with caramelized onions and asparagus and I've included those recipes below. Add a lovely light red and the company of good friends.  This is an easily made, elegant Easter lunch and serves 6 delighted guests.
FOR THE LAMB
Ingredients
½ Leg of Lamb, bone-in—approximately 5 lbs
6 garlic cloves, sliced
3 sprigs each Rosemary, Sage and Thyme
1 tablespoon La Castellina Olive Oil
Salt and Pepper
 With lamb at room temperature heat oven to 425 degrees.  While the oven is heating make small pockets in diagonal rows in the lamb and insert a garlic slice and part of each sprig of the herbs—rosemary, sage and thyme into each pocket.  Coat with the olive oil, salt and pepper.
Roast at 425 degrees for 20 minutes.  Turn the oven down to 350 and roast 20 minutes per pound  until thermometer is at 130 degrees for medium rare or longer per your preference.
Remove from oven and let stand for 15 minutes.  Carve and serve with
CARAMELIZED ONION COUSCOUS
Ingredients for the onions
2 tablespoons La Castellina Olive Oil
1 large red onion thinly sliced
1/4 teaspoon sugar
2 garlic cloves peeled and minced
Pinch of salt
1/4 cup water
*
2 tablespoons Salute Sante: Grapeseed Oil
2 cups Hand Rolled Couscous
Pepper
3 cups Aneto Chicken Broth 
 Prepare the onions:Gently heat 2 tablespoons La Castellina olive oil in a medium sauté pan. Add thinly sliced red onions and a pinch of salt. Cook over low heat until onions begin to soften
Sprinkle mixture with sugar, stir to blend.  Add minced garlic and continue to cook over low heat until garlic softens-- about 2 minutes.
Add 1/8 cup water - once reduced, add the remaining water. Continue to cook over low heat until the onions have caramelized.
Set aside.
Prepare the couscous: Heat 2 tablespoons grape seed oil over low heat and add couscous, sprinkle with pepper then continue to cook over low heat until couscous is fragrant and slightly toasted, stirring occasionally,  approximately 8  minutes.
Add chicken broth and stir, bring to a boil, cover and reduce heat to simmer for 10 minutes. Remove from heat and let rest for 15 minutes then toss the caramelized onion mixture into the couscous.
Asparagus sautéed with garlic and oil, salt and pepper
Ingredients
2 tablespoons La Castellina Olive oil
6 garlic cloves, crushed and coarsely chopped
2 bunched trimmed asparagus
Salt and pepper 
Heat the oil, add the garlic and cook until it begins to soften. Add asparagus, salt and pepper. Toss.  Cook until asparagus soften to preferred tenderness, stirring occasionally.
Cover if necessary.
These ingredients can be found at Olde Hudson